Summer Celebration T-shirts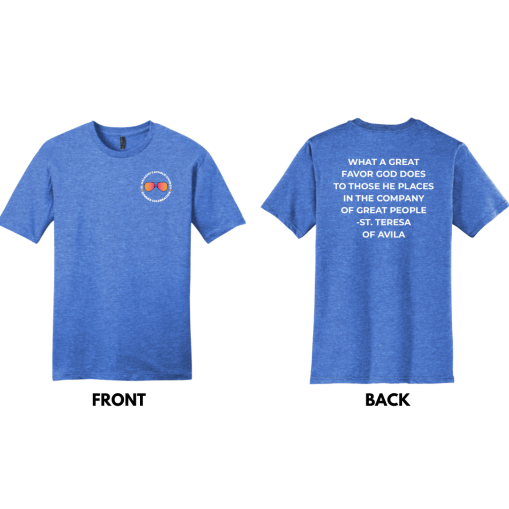 Our Summer Celebration T-shirts are back!
The 2022 t-shirts are now available in the office during office hours and on our website! The shirts are available in youth, women's and unisex sizes. We also have our 2021 Retro t-shirts available at a discounted price, but only a limited number of sizes and styles are available.
Activities
2pm - 7pm: The KIDS ZONE will feature multiple bounce houses and outdoor games for our young parishioners
2pm - 4pm: Face painting
2pm - 10pm: The TEEN Tent will be open and stocked with tables, chairs and card games for teens to enjoy
2pm - 7pm: Golf chipping challenge ($10 for 3 balls; winner receives a FREE registration for the Knights of Columbus Gold Outing in August)
3pm-7pm: Music with DJ Bill
6pm: Cornhole Tournament begins (registration required)
7pm - 10pm: Live music with Cool City Band
Raffle Baskets
Raffle tickets will be sold during church office hours this week (8am to 3:30pm) and at Summer Celebration for several wonderful prize packages. $1 per ticket or $20 for 25 tickets. Winners will be pulled at the end of the night. You do not need to be present to win.
PUll Tabs and 50/50
5pm - 9pm: 50/50 tickets will be sold. Must be present to win.
5pm - 9pm: Pull tabs will be sold.
2nd Annual Cornhole Tournament
Our Cornhole Tournament is back! Will the team from last year hold their title for the 2022 tournament? We will see soon!
June 11th, 2022 starting at 6PM
Registration is $10 per team
32 Teams
Summer Celebration Food and Drink
Food and drinks are available for purchase. This year, the Summer Celebration Committee is offering "adult beverages," but you can still make it a BYOB event. We are asking that you do not bring glass bottles.
2pm - 10pm: Ice Barn will be selling snow cones
3pm - 8pm: Hot Dogs, hamburgers, chicken sandwiches, chips and candy will be available for purchase
3pm - 9pm: Beer and wine will be available for purchase
And of course... FREE BOTTLED WATER is available all day