Giving
Secure Online Giving
Below is the link to St. Malachy's online giving portal. Online giving benefits the church in consistency and reliability. Please discern your active participation in financially supporting the church.
Why We Give
"
In every way I have shown you that by hard work of that sort we must help the weak, and keep in mind the words of the Lord Jesus who himself said, 'It is more blessed to give than to receive

.' " Acts 20:35
Our Vision
Ways to Give
2022-2023 Financial Review
Our Vision for 2022-2023
St. Malachy continues to be blessed by the generosity of our parishioners. Our financial health and well being is directly connected to this generosity. We believe in C.L.O.V.E.R, and that its guidance will result in faith filled, heart opened, and committed individuals. Our vision, always, is to improve our programming; improve our connections; improve our communications; improve our relationship with you. St. Malachy desires to accompany with you on your journey by enhancing or developing your relationship with Jesus and the blessings he gives freely.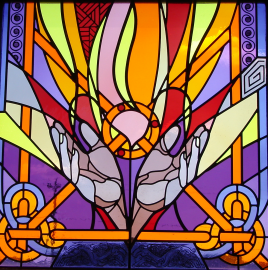 Ways to give
The traditional way, physically at church. Every Sunday Mass the collection basket is offered for donations.
Online giving. As was stated in the introduction, we use an internet platform to securely accept your donation. The link was embedded at the top of this webpage.
Text-to-give. Much like online giving you can set up a one-time donation or recurring donation by texting "supportmalachy" to 317-548-0911.
Planned giving is another option that provides a solid foundation at St. Malachy, while providing tax benefits for the donor. Please review this Planned Giving Methods document to investigate the many ways to support the church, and create a legacy.
Report Information
The parishioners of St. Malachy Catholic Church have accompanied our growth since 1869. It is through the united belief in our Catholic faith, stewardship, community, and sacrificial giving that St. Malachy continues to enhance and make real the the teachings of Christ.
Here is the 2022-2023 Financial Review. The financial year starts on July 1st and ends the next year on June 30th. Please click HERE to review this document.
How Your Donations Help
Here's a testimony from our fellow parishioners, the DeChant family. It was filmed years ago, but still resonates today. In the video they discuss their lifelong faith and the lasting foundation established. The DeChant family setup the Jerome W. DeChant Scholarship Endowment Fund in 1992. Establishing or contributing to an endowment is one of many ways to assist in the continued growth of St. Malachy and our Catholic faith.