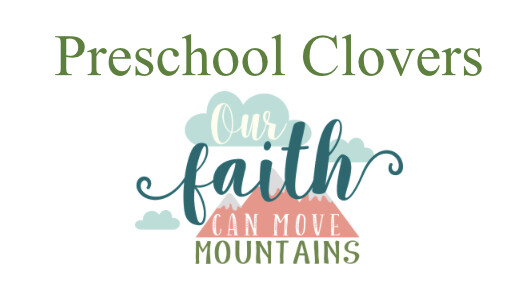 Bible Verse of the Week:
Jesus went with Mary and Joseph to Nazareth and obeyed them. Mary remembered all these things in her heart. (adapted from) Luke 2:51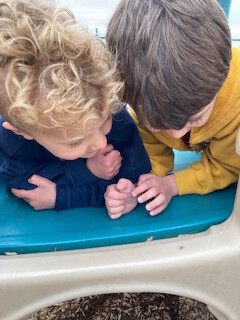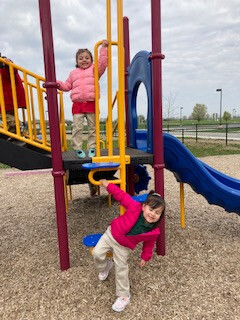 Important reminders:
We are once again in need of disinfectant wipes for the classroom. Donations are much appreciated!
Parents, please remember to be out of your cars and ready to retrieve your child during half day dismissals in addition to full day dismissal.
Masking is optional for all students and staff members.
Book It! Program-Thank you to all that participated in the Book It! program. Now that it is over for the school year, I encourage parents to look into your local library's summer reading program to keep the love of reading going.
ClassDojo-Behavior reporting started the second week of school. Please know that most of the behavior that is reported is very age appropriate, and we will work with each student to correct the behavior. If at any time we have a serious behavior issue that requires immediate attention or are needing extra parent support for a specific behavior, Mrs. Imel will notify you via email or phone call.
Students are allowed to wear St. Malachy spirit wear and jeans or uniform bottomson Fridays only, unless there is notification of otherwise.
Blankets will be sent home for cleaning every week on your child's last school day of the week. Please be sure to send them back upon your child's return to school.
Blankets must be small enough to fit into a gallon baggie as our cubbies are not big enough for large blankets. We ask that students do not bring in pillows or stuffed animals for rest time.
Students wearing skirts or dresses are to have cartwheel shorts worn to cover their undergarments. *If your child chooses to wear leggings under their skirt, the leggings must be long enough to cover the ankles. Please refer to the school handbook for dress code guidelines.
In the occasion that after school plans change or your child is absent, please call the front office at 317-852-2242 or email

and

.
If you utilize extended day or are in the late line you can only TEXT(463)209-9650 no longer call the pickup line for it will not be answered. In the event you must speak to Mrs. Wheeler please contact her at (317) 852-2242 ext 7204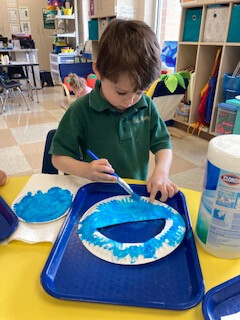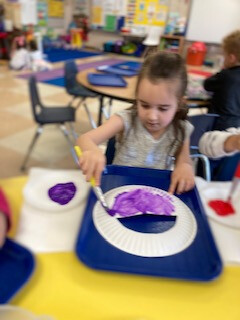 May Important Dates:
May 2: Last Day for the Great Crayon Project
May 6: Scholastic Book Orders due-Last one for the schoolyear!
May 11: May Crowning
May 20: Field Day- 1:00 dismissal *More information to come!
May 26: Clovers End of Year Ice Cream Social *Stay tuned for more details!
May 26: Last Day of school-1:00 Dismissal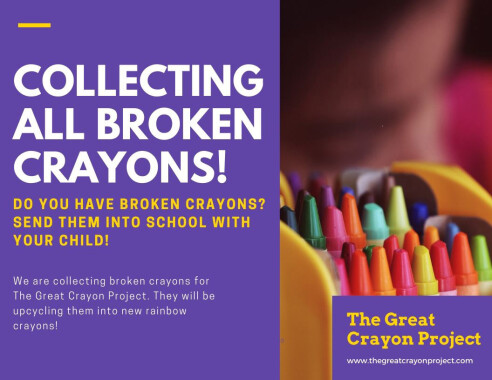 The Great Crayon Project
Our class is participating in the The Great Crayon Project. We will be collecting old and broken crayons to be upcycled into new ones. The collection will be from now until Monday, May 2. If you have any old or broken crayons at home, please feel free to send them in. Below is more information. There is a flyer attached as well. If you have any questions, please feel free to let me know.
What you do:
Bring in broken crayons, any container is fine! The crayons will be
added to a central box and the student will keep the container.
(Peeling the paper off is optional)

Please drop crayons off by Monday, May 2, 2022
We will be sending them into The Great Crayon Project to make new fun-shaped crayons.
What does The Great Crayon Project do?
The Great Crayon Project melts the broken crayons down into
new crayons in various shapes and colors.
The new crayons are then:
-Donated to various organizations to promote art and creativity in
children (7,000+ donated to date)
-Exchanged for more broken crayons (3,000+ exchanged)
-Sold (all profits purchase school supplies for children- 10,000+
school supplies items donated to date)
Find The Great Crayon Project on Facebook/Instagram.
Find out more about The Great Crayon Project:
www.thegreatcrayonproject.com
Upcoming Next Week:
Letters, Numbers, & Writing

We are continuing letter recognition and order through repetition. Each morning, we will use alphabet chart to recite. We are counting to 10 by repetition. Each morning, we will use our number chart to count. We will also be working on pencil control and building up hand muscles through sensory play.

We will be beginning our World of Wonders Curriculum Unit 9: Ready for Kindergarten. This week, students will recognize how they have grown and changed and will understand what good health habits are. Our focus letters of the week will be reviewing letters K-O. We will also be reviewing shapes and counting as high as we can.

Science

We will be learning about and exploring motion.

Social Studies

We will gain an understanding of what our bodies need to stay healthy.

Religion and Catholic Identity

Clovers will be practicing how to make the sign of the cross. (This will be a work in progress throughout the year.)

We will be completing a special lesson of the God Made Me Catholic religion curriculum by Loyola Press. This week's theme is "Mother's Day". Students will realize what their mothers do for them, know that Mary is their mother in heaven, and be grateful for their mothers on earth.

Social and Emotional Learning

We will begin Slumberkins: Authenticity with Unicorn These lessons encourage students to be their true selves. Welcoming and celebrating differences is key for students' emotional wellness. These lessons offer opportunities to students to identify their own ways of being authentic and explore positive ways to welcome and respect others' differences. We will be working on lesson #1 Authenticity with Unicorn. In this lesson, students will be able to identify how Unicorn's feelings changed throughout the story, "Unicorn Dares to be Unique." Students will also be able to identify the lesson Unicorn learned about authenticity.

Art

We will be making Tortoise and Hare finger puppets.

STEM

(afternoons)

Spring STEM: Students will continue to learn about new life in the spring and engage in multiple hands-on themed activities.